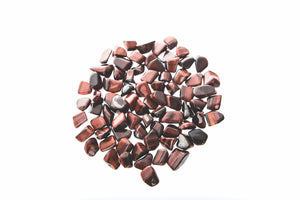 Tumbled stone in various sizes. 
Red Tiger Eye- A protective stone that's grounding, while facilitating the manifestation of your will. Helps recognize faults that need to be overcome. Enhances practical perceptions & aids in collecting scattered information, making a coherent whole. Stimulates motivation & helps overcomes fatigue.
**The product you receive may be different from the image shown. Colors, markings, shape, etc. can vary in natural stones.