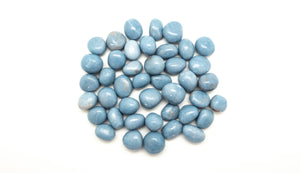 Tumbled stone in various sizes. 
Angelite- facilitates contact with the angelic realm. Enhances communication and enables out-of-body journeys. Deepens attunement and heightens perception. Helps one speak their own truth. Helps one be more compassionate and accepting. Brings deeper understanding of mathematics. 
**The product you receive may be different from the image shown. Colors, markings, shape, etc. can vary in natural stones.