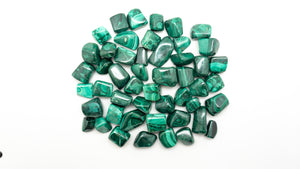 Tumbled stone in various sizes. 
Malachite- Brings transformation and change. Helps by getting to the core of problems. Supports friendships; bringing balance/harmony to the heart. Breaks unwanted ties & worn-out patterns. Opens you up to unconditional love & spiritual guidance. Brings deep emotional healing by releasing negative/traumatic experiences.
**The product you receive may be different from the image shown. Colors, markings, shape, etc. can vary in natural stones.