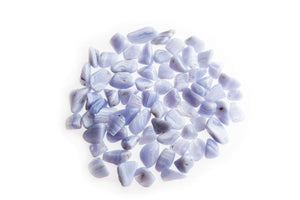 Tumbled stone in various sizes. 
Blue Lace Agate- A calming stone that neutralizes anger. Counteracts repression/suppression of feelings  that stemmed from being judged or rejected by other. Aids in verbal expression and communication. Calls in a spiritual vibration of deep peace. Clears and heals throat chakra. 
**The product you receive may be different from the image shown. Colors, markings, shape, etc. can vary in natural stones.