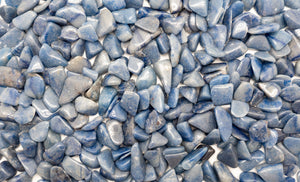 Tumbled stone in various sizes. 
Natural Blue Quartz- Great for working on the throat and 3rd eye chakras. This tranquil stone assists in understanding your spiritual nature. It brings a mental clarity, organization and self-discipline, while calming the mind, alleviating fear, inspiring hope, and stimulating creativity. 
**The product you receive may be different from the image shown. Colors, markings, shape, etc. can vary in natural stones.