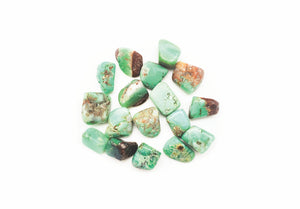 Tumbled stone in various sizes. 
CHRYSOPRASE-  Promotes love for truth and promotes the feeling of hope. Brings forth talents & creativity. Creates openness to new situations. Aligns your ideals with your behavior. Overcomes compulsive/impulsive thoughts and actions. Heals codependence, promotes independence, and encourages commitment. 
**The product you receive may be different from the image shown. Colors, markings, shape, etc. can vary in natural stones.