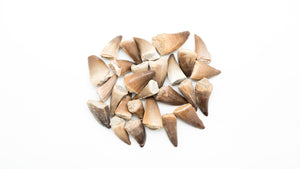 Loose fossilized teeth in various sizes. 
Dino Teeth- Helps to instill both quality and excellence within your environment. Removes old programming and schedules. Allows for receptivity of fresh innovative forces that are available. Used to enhance communication between present reality and the prior worlds, as well as current ones. 
**The product you receive may be different from the image shown. Colors, markings, shape, etc. can vary in natural stones.