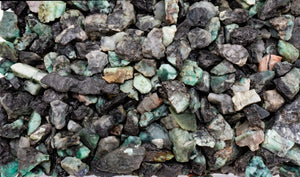 Loose stone in various sizes. 
Emerald- Stone of inspiration and infinite patience. Stimulates cooperation, understanding, unity and unconditional love in partnerships/friendships. Opens the heart chakra while calming emotions. Eliminates negativity, brings in positive actions. Gives strength to overcome the misfortunes of life. Cleanses, purifies, and reorganizes anything in the body that is not in perfect order. Increases: self-confidence, concentration, absorbing information, and quick thinking. Highly protective and emotionally stabilizing. 
**The product you receive may be different from the image shown. Colors, markings, shape, etc. can vary in natural stones.