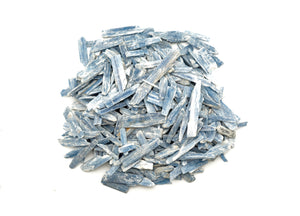 Loose stone in various sizes. 
Kyanite- Helps spiritual energy manifest in thought. Connects you with spirit guides, facilitates dream recall and promotes healing dreams. Encourages self-expression and communication. Cuts through illusion, negativity, anger, stress, and confusion. Kyanite aids in self-reflection, showing one's part in their personal experiences. 
**The product you receive may be different from the image shown. Colors, markings, shape, etc. can vary in natural stones.