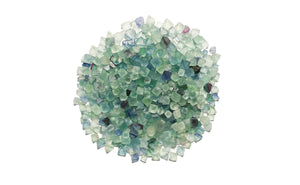 Loose stone in various sizes. 
Fluorite- Highly protective. Cleanses, purifies, and reorganizes anything in the body that is not in perfect order. Increases self-confidence, concentration, quick thinking, and absorbing new information. Has an emotionally stabilizing effect that helps to overcome chaos. Helps move passed narrow mindedness. 
**The product you receive may be different from the image shown. Colors, markings, shape, etc. can vary in natural stones.