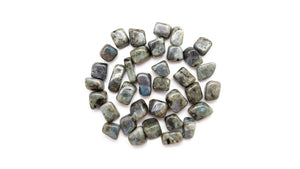 Tumbled stone in various sizes. 
Labradorite- Provides protection and transformation. A useful stone through change. Calms any anxiety or stress and grounds spiritual energies. A powerful stone in revealing the truth behind illusions. Banishes fear and insecurities. Strengthens faith in the self, and trust in the universe. Removes projections taken on from others. 
**The product you receive may be different from the image shown. Colors, markings, shape, etc. can vary in natural stones.