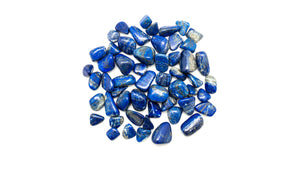 Tumbled stone in various sizes. 
Lapis- Protective stone that contacts spirit guardians. Helps one take charge of life, while quickly releasing stress & bringing in a deep sense of peace. Confronts truth & helps accept life's teachings. A powerful thought amplifier; bringing self-awareness, objectivity & clarity. Stimulates spiritual power, personal power, & enlightenment.
**The product you receive may be different from the image shown. Colors, markings, shape, etc. can vary in natural stones.