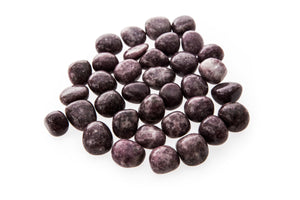 Tumbled stone in various sizes. 
Lepidolite- Called the "Peace Stone", Lepidolite relieves everyday stress. Promotes a restful sleep. It's a type of lithium mica that attracts good luck and drives away negativity. The most efficient "mopping-up" tool. It encourages independence. Helps one focus on what's important, filtering out distractions and achieving goals. Can be laid on painful parts of the body. A healing stone. 
**The product you receive may be different from the image shown. Colors, markings, shape, etc. can vary in natural stones.