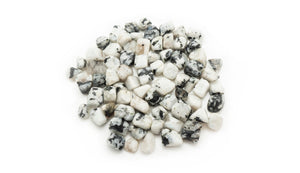 Tumbled stone in various sizes. 
Moonstone- A stone of new beginnings & deep emotional healing. Calms overreactions to situations & emotional triggers. Improves emotional intelligence. Use on Solar plexus to draw out old emotional patterns to be understood & dissolved. Encourages lucid dreaming, especially during the full moon.
**The product you receive may be different from the image shown. Colors, markings, shape, etc. can vary in natural stones.