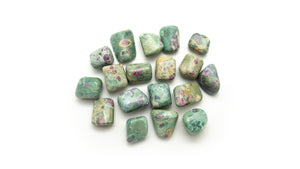 Tumbled stone in various sizes. 
Ruby in Fuchsite- Resonates strongly to earths energy, opens heals & strengthens the heart. Encourages speaking from the heart, not from toxicity that once surrounded it. A powerful yet gentle stone. Great meditation stone transmitting messages through 3rd eye to the heart, where they're better understood.
**The product you receive may be different from the image shown. Colors, markings, shape, etc. can vary in natural stones.