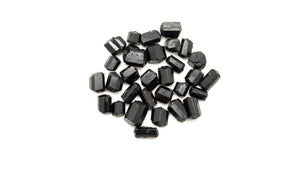 Loose stone in various sizes. 
Black Tourmaline- Excellent balancing stone that cleanses and purifies the aura. Forms a protective shield around the body. Banishes feelings of inadequacy, victim mentality, and attracts inspiration. Aids in understanding oneself as well as others. Diminishes fear, promotes self-confidence, and transmutes negative thought patterns into positive ones. 
**The product you receive may be different from the image shown. Colors, markings, shape, etc. can vary in natural stones.